"Bottling's not only put wine in a bottle but also capturing a part of time. When opened, all the spirit & soul of a piece of time's released." Caroline PARENT-GROS
Caroline Parent produces wines from a variety of family vineyards located in both Cote de Beaune and Cote de Nuits. Caroline's style favors the elegance and the finesse of the wines which are anchored in the timeless tradition of Burgundy. Her state-of-the-art winemaking practices aim at delivering the full terroir expression of the Burgundian Chardonnay and Pinot Noir. Current appellations include:
Caroline Parent Bourgogne Chardonnay
Caroline Parent Cremant de Bourgogne
Caroline Parent Bourgogne Pinot Noir
Caroline Parent Beaune 1er Cru
Caroline Parent Pommard 1er Cru
Caroline Parent Gevrey Chambertin
Caroline Parent Nuits Saint Georges 1er Cru Argillieres
Caroline Parent Vosne Romanee
Caroline Parent Clos Vougeot Grand Cru
The Caroline Parent label sees itself as a guarantee of tradition and quality.

She is the daughter of François Parent and Anne Françoise Gros. Two great families of winemakers:

- The Gros family, winemakers of the Côte de Nuits, known through the prestigious appellations that are Echezeaux and Richebourg.

- The Parent family, winemakers of the Côte de Beaune, where Caroline's father, François, perpetuates the savoir-faire of the great lineage of which he is the thirteenth winemaker

Today, little by little, room is being made for the new generation but, to make her wines, Caroline continues to place all her confidence in her father and in the other winemakers of the family. Her wines come mainly from personal or familial vines.

So as to complement these family appellations she has carefully selected some other winemakers who in her opinion best express the typicity and richness of Burgundy terroir and who work like her family with rigour and consistency.

The label with the butterfly also has its own story. Madame Janine Gros (Domaine Jean Gros), Caroline's grandmother, entrusted her with a small notebook collection of thoughts and poems that had come to her from her mother, whose name was Yvonne.

She had been a pupil at the School of Fine Arts in Dijon in the 1920s and it was at that period that she had made an engraving on the leather cover of this notebook, a butterfly that today has placed its wings on the wine labels of her great granddaughter.

« Caroline: Ma première petite fille, sa volonté, son acharnement, sa passion pour son travail. Je lui souhaite d'avoir le même bonheur que moi dans ce merveilleux métier du vin qui nous fait rencontrer des amateurs passionnés qui, à leur tour, savent partager ce moment heureux de la dégustation. » Madame Jean GROS
Caroline's grand parents: From the left to the right: Jean GROS, Jeanine GROS, Caroline at a tasting in Asia
Thibault and Arthur (Caroline's sons) and behind, Jacques PARENT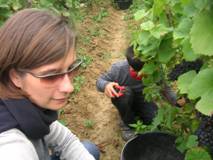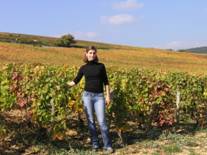 From the vineyard to the glass....